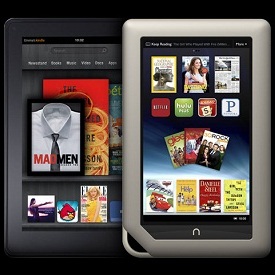 It shouldn't come as too much of a shock, but the Kindle Fire took the top spot as the bestselling, wished for, and gifted item on Amazon.  Right behind the new Kindle tablet were the Kindle Touch, and regular Kindle.
Amazon (NASDAQ: AMZN)  is keeping quiet about exact numbers, but reports are going around that they hit around the 4-5 million mark.  Around a million Kindles were sold each week in December.  The prices are said to be one of the biggest reasons for the record breaking sales figures.
In addition to the Kindles themselves, sales of accessories and apps got a big boost.
With all that said, the holidays are now over, and we're firmly into 2012.  2011 was the year of the tablet, and 2012 will most likely continue that trend.
I think the Kindle Fire will continue to be very successful.  Reviews went up after Amazon released the update that improved navigation.  Amazon is good at listening to its consumers, so more improvements are sure to come.
I think that the tablet market has already and will continue to split.  The Kindle Fire is much smaller than the iPad and is geared for consumers who want a multifunctional, portable tablet without too many bells and whistles.  All tablets will compete for the market share, and the Kindle Fire has definitely taken a hit at the iPad's sales.  However, the direct competition for the iPad is projected to be the new Asus Eee Transformer Prime.
The reason for this is that the Prime and the iPad have much more powerful processors, and can be used as a makeshift laptop.  They are both compatible with external keyboards.  The decision on what tablet to buy simply depends on what you want to use it for, and how much you're willing to pay.
There are rumors about a bigger Kindle Fire, and smaller iPad in the works, but any concrete details on them are yet to be seen.
Tablets in general has a solid foothold in the market, and now it is just a matter of seeing how they will continue to develop competition and feature wise.