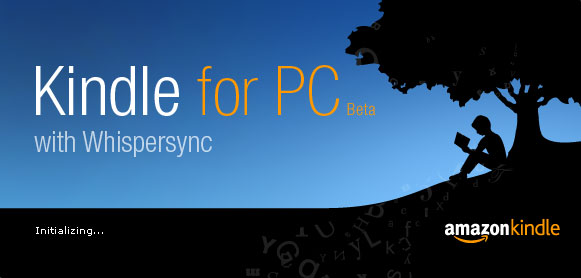 Last week Amazon has released Kindle for PC application for Windows. This application was first unveiled last month on Windows 7 launch event. As the competition in eBook/eReader market heats up this holiday season this is a second major move by Amazon in an effort to increase it's already large market share.
Kindle for PC makes full versions of all of the 300,000 Kindle books available for reading on any Windows PC. I've downloaded and installed the application on both my desktop computer and netbook. The application is still in beta version so there's definitely room for improvement.
Download size is just 5.3 megabytes. Installation is fast and easy. On the first start you are prompted for your Amazon.com credentials and then you get access to all of the Kindle books that you've purchased before.
Kindle For PC automatically registers itself with Amazon.com website in the same section as iPhone applications. I'm not sure what are the limits. I currently have 5 Kindle devices, 1 iPhone app and 2 Kindle for PC applications registered to my account and there seems to be no problem.
Application interface is definitely optimized for touchscreen operation. No doubt about it. You can get around just by poking your finger. Unfortunately this is the only thing you can do. One of the biggest complaints of Kindle users is the lack of folders or any other means to organize the book collection on the device. However on hardware Kindles you can search though your collection. This functionality is not there in Kindle for PC so if you own a lot of digital books finding the one you need may be tricky.
On the upside you get larger screen and color. I've tested several books that have color pictures in paper version and Kindle versions had color in them as well. Obviously the refresh time is better than eInk. The screen is back-lit which can be good or bad depending on your personal preferences. Personally I prefer reading books from eInk screen as it feels more natural but on the other hand I spend 10+ hours per day in front of back-lit LCD screens at work and my eyes aren't burnt out yet. Navigation within the book works the same way as on hardware Kindle.
Image quality is seems to be web-grade. At the moment there is no way to zoom images. This functionality is supposed to be released later via update. I tried downloading "The Digital Photography Book, Volume 1" that is marked as "Optimized for larger screens" (same a "Optimized for Kindle DX") and the file is the same size on K2i, Kindle DX and Kindle for PC.
However dictionary lookup and search are not available. You can see notes and highlights you've made on your hardware Kindle but you can't make new ones. You can bookmark pages. WhisperSync synchronizes last read location between all your Kindle devices so it's easy to pick up reading where you left off.
Kindle for PC takes advantage of the new features of Microsoft's latest Windows 7 operating system such as multi-touch and jumplists. Jumplists are context menus that a tied to applications and shortcuts in taskbar that allow you to "jump" to some frequently used application features. Kindle for PC jumplist contains the list of most recently read book so that you can open then with a single click. The application registers kindle:// browser protocol that allows links on Amazon.com website to open with it.
Obviously there is a lot that can be improved in the application before beta tag is removed. Amazon promises following improvements in the near future:
Create notes and highlights
Search
Zoom and rotate images
Here is Kindle for PC application pros and cons in a nutshell:
Pros:
Free. It enables you to get $9.99 eBooks on any Windows PC
Color. It's better than black-and-white if the book is graphically intensive.
Touch-friendly user interface.
Cons:
No way to organize your digital library or search though it.
Highlights and notes are read-0nly (should be available soon via update)
No way to copy-paste book text.
No Mac version (should be available within a couple of months)
When I purchased my first Kindle I did it because I wanted to get certain information from a book that wasn't available online "here and now". While I don't envision myself reading complete books on a PC, it certainly makes getting information from books "here and now" easier. It is also a great way for people unfamiliar with eBooks to try them out without having to invest in a dedicated reader device.