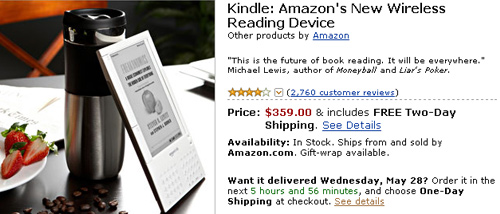 Amazon updated the Kindle product page this morning with a 10% reduction in the price of the Kindle, the price drop is a welcome one and also includes free 2-day shipping. So if you have been waiting for the price to drop before purchasing a Kindle, now is your chance to get one before stocks run out again!
The price drop was expected, as predicted by most analysts, further drops are expected in the future but that all depends on a stable supply of Kindle devices. The reason Kindle has been out of stock so frequently is because a single factory has been manufacturing the Kindles, so far supply has FAR exceeded demand, but just over a month ago Amazon brought on-line a second factory, which should create a more stable supply of Kindle devices.
Amazon is expect to drop the price around 15% a year, so by 2010 the device should be priced at around $300 in line with expectations, meaning I wouldn't expect another price drop until around Christmas time.
Source: Amazon Kindle Store – Kindle now $359 with free 2-day shipping