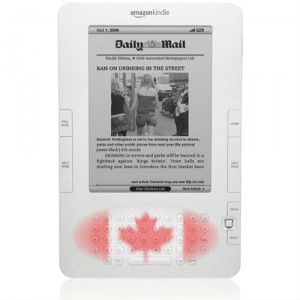 The Kindle 2 International continues on its path to global coverage, this time reaching Canada. The International Kindle, with its free global roaming wireless connection has attracted a lot of international buyers and Canada was one of the many countries where the launch of the device is highly anticipated.
Amazon declared earlier last week that Canada is now amongst the countries that they officially ship to. While Amazon's delay to support a nation so close to the US has raised a few eyebrows, it has to be understood that international trade laws can be pretty stringent. So finalizing business deals sometimes takes an unnaturally long time, which is lamentable but unavoidable in certain situations.
Now the wait is finally over for Canadians and Kindles have already started being shipped up North. If there was ever an eBook reader that a large number of international customers wanted, it has to be the Kindle. And this fact is not lost on Kindle's competition.
Sony has followed Amazon to Canada and has started shipping their own eBook readers there. But till date Sony lacks the kind of content that Kindle readers have easy access to with each and every Kindle. So it doesn't look like Amazon will be threatened by Sony's readers anytime soon. But that does not mean that Sony will not do anything about it.
As it turns out, Sony is planning its own online store, called Sony Online Service. Their primary target is iTunes but it is likely that they would want to provide content for all their devices and that logically should include Sony's eBooks readers. However, if their content is as limited as their eBook reader and as unimaginative as their online service name, Amazon will have the last laugh on this one.