Today my Kindle 2 updated itself to 2.0.1 (303870012) without even me noticing it. I had very hard time figuring out what this update is about since it's not officially announced by Amazon (although it's listed on the source code page) however – here's what I could gather:
This may or may not be related to selectively disabling text-to-speech feature on some books since on one hand the updated started circulating among limited number of users before the decision was announced. On the other hand it's very logical that Amazon prepared the code that started testing it on limited number of Kindle's before it made the official announcement.
Some users have reported that 5-way controller got an acceleration feature (cursor starts moving faster after a second of holding the controller in some direction). I checked and it really seems to be the case now, though I can't say that the feature wasn't there in the first place.
At first it was rumored that this update addresses some kind of hardware issue that affects only some devices however this proved false since gradually more and more Kindle owners are getting this update.
I've downloaded both 2.0 and 2.0.1 source codes, ran a WinDiff (a program that finds changes in the source code) and here's what I've found:
Several changes in power management code including the code that talks to MC13783 power management controller. These are most likely to improve battery life.
Minor change in code related to ISP1504 USB Hi-Speed transciever.
This only entails changes made to GPL portion of the Kindle source. Amazon code that controls high-level Kindle functions is not published so there's no telling what was changed there. My personal guess would be that it is the text-to-speech update that was released before decision was publicly announced.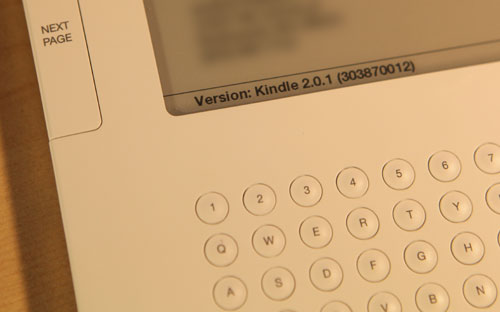 Instructions for manually installing this update can be found here. Use at your own risk!