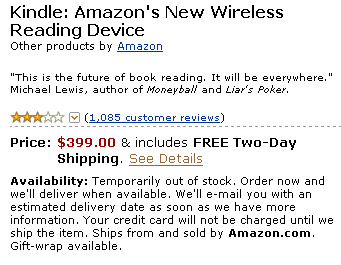 Yeah it's old news from November, but I still think it needs to be mentioned on this blog. It's still amazing to me that Kindle sold out in just 5.5 hours.
However this was over a month ago and Amazon.com still says that Kindle is out of stock, and there is still no word on when new units will be available. With Christmas just one week away many people will not be able get one in time, so what do you guys think? is Amazon purposefully holding onto new units in order to build up buzz about the device ?
We will let you know the minute that Kindle is back in stock.