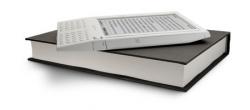 That's what analyst Steve Weinstein of Portland's Pacific Crest told the San Francisco Chronicle, adding that Amazon has sold around 40,000 units so far this year and could sell between 700,000 – 800,000 by the end of 2008 hitting $2.5 billion in sales by 2012.
Considering that Apple sold 376,000 iPod units in its first year, the numbers look promising, that's considering you believe Mr Weinstein's numbers – we think his numbers are highly inflated and Mark Mahaney's figures are more realistic. But that's not the interesting part of Steve Weinstein's analysis, he goes on to say that Kindle wont have the same impact on the industry as the iPod had on the music industry, – I think we can all agree on that – one reason being that that price of the Kindle, currently at $359, is too expensive for mass acceptance. Is $359 too expensive? what we have got to remember is that Kindle is the first generation device, and prices will inevitably drop.
Tim McCall, VP of sales at Penguin Group USA said "We see it as an incremental change" suggesting that the Kindle is a catalyst in an overall move towards an e-book distribution model for the industry. Tim McCall added "It's certainly a device that has energized the digitization of books".
Is the Kindle too expensive for mass acceptance? what do you think: