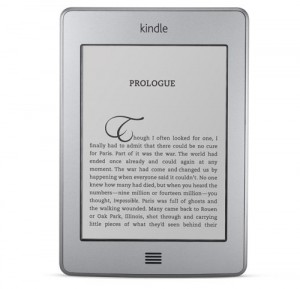 Along with the Kindle Fire update, the Kindle Touch also got one as well. It is currently only available for manual download at the moment. If you want to download it see Amazon's instructions on how to transfer it via USB here.
I don't really see anything major in this update that is worth racing to the computer to download, so I'd sit tight and wait for it to be available via Wi-Fi. The automatic update does all of the work for you. But, it is a matter of preference, and the option is there if you want to take advantage of it.
I think it is worth pointing out how to check for updates. I learned my lesson first hand when I realized my battery was draining really quickly on my older Kindle. If you need assistance with the process, Amazon's support is excellent. It is good to do this periodically because it can affect security, battery life, and the content on your e-reader.
So here's how:
Tap "Menu'. Select "Device Info" If it says "5.0.3" then you're good. Most likely it will say "5.0." That will be greyed out until the automatic update is available. For the manual download, you will need your USB cord.
Amazon is really vague about what is in this update, but one thing I'd like to see if smother page transitioning. My Kindle Touch has frozen before after being incredibly slow. This has only happened once, but there have been other reports of freezes. Touch screen technology is not quite up to speed with physical button transitions from what I can tell. You can't turn pages as quickly as you can with the buttons.
Another good improvement that goes along with smoother transitions would be to erase the previous page shadowing that seems to linger when I move on to the next page.
Other than those two issues, I have really enjoyed my Kindle Touch. I especially like the grip on the back and sides, and the compact size. It fits much more easily in my purse than my Kindle 2 did.
Learn how to open download file
.Stay tuned for the automatic update announcement. As I mentioned earlier in the post, until then the manual download with instructions is fully available on Amazon's website.