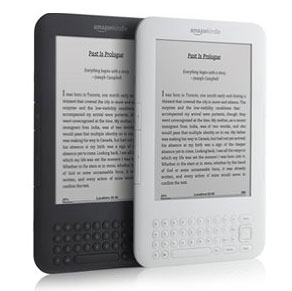 It appears that Amazon(NASDAQ:AMZN) has been doing some customer polling, or at least watching their forums, and came up with a few new features for an upcoming Kindle software update as a result.  While this has not rolled out to the public as an official release just yet, they are offering an Early Preview of the update for manual download through the website at this page.  I've got to admit, this addresses a few long standing concerns.
Real Page Numbers
Foremost among user complaints about the Kindle has often been the progress indicator.  Hard to share a passage you like with friends and family when you can't just suggest that they turn to a specific page in their own copy, right?  Well, now Amazon is adding in corresponding page numbering between print and digital copies of their library, beginning with the top 100 most popular books that offer both formats and moving on from there.
Public Notes
You know how you can annotate and highlight things in your favorite Kindle books?  Well, now you'll be able to share those markups with anybody who's interested.  It opens up new avenues of communication for friends, families, reading clubs, authors, and pretty much anybody who spends time seriously thinking about their reading.  Note that this is an optional feature that is not turned on by default, so there is no danger of sharing inadvertently as far as I can tell (if that's a concern for you).
Post-Reading Interview(aka "Before You Go…")
Many people have realized the flaw of the user rating system on Amazon and many other sites.  Often users will only make the effort to comment if the book was particularly bad or amazingly good.  Even then, if you can't get to it right away while it's fresh in your mind, what's the point?  Now, when you finish your book you will be given a chance to rate the book, share a note on the book (via the Facebook and such),and get some recommendations on things to read both based on the author you just read and from a selection of more general personalized recommendations.  It's fairly unobtrusive and shouldn't negatively affect your reading experience, while at the same time having the chance to improve the reliability of the rating system on the Kindle store.
New Periodical Layout
Magazines and Newspapers are becoming a bigger and bigger thing in the eReader world.  The new layout makes them that much easier to browse.  There's not much more to say about it than that it makes more sense this way and seems to speed up browsing magazines for the Kindle considerably.
Lots of fun new stuff to play with in this Kindle software update.  Nothing game changing, necessarily, just a bunch of stuff that users have been asking for.  It's nice to see that Amazon's still interested in getting the Kindle updates going out even when there aren't any major problems needing to be addressed in the software.  I'm going to play around with it a bit more and post some impressions in the near future if I get a chance.  Let me know how it's working for you.