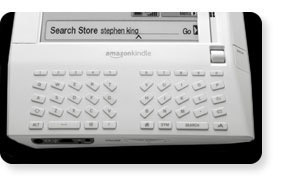 If your one of the many people interested in buying the Kindle, but unfortunately you live outside the US, then until Amazon decides to release Kindle in your local you cant enjoy the benefits of owning a Kindle. Kindle owners here in the US are also interested in knowing whether using their Kindles outside the US is possible. Amazon states in it's FAQ section that it is working on releasing the Kindle for international markets and asks that international customers to sit tight for the time being.
That's not good enough for some.
Where there's a will, there is way. A post by Nerdgirl on her site offers a solution for those unwilling to wait for the official Kindle release in their country. The hack involves tricking Amazon into thinking that your billing address is associated with a US address — apparently Amazon does not verify the address unless you purchase a dead-tree book. This then allows you to associate a Kindle device with your Amazon account, once your Kindle is associated with your account you can use gift certificates to buy e-books. But if your expecting them to be delivered wirelessly then think again, they wont be, you will have to transfer the e-book via USB.
The very fact that someone has discovered this hack proves that people outside the US are itching to get their hands on the Kindle.
You can read the full instructions on Nerdgirls website by following the link below.
Source: Nerdgirl