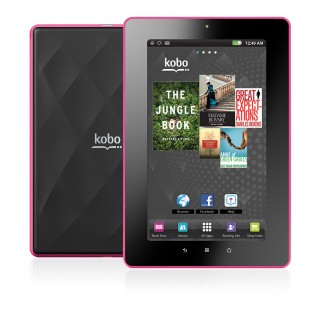 The Nook Color might have been the first tablet to come from a major eReader maker, but the Kindle Fire has clearly set the tone for devices in its size / power range.  Amazon's new media tablet hasn't even shipped yet and people are scrambling to match prices or rush out competing product.  For the most part, there isn't really any obvious reason for Amazon to be concerned, but the new Kobo Vox is an imitator with impressive potential.
Kobo's new Kindle Fire competitor, marketed as a color eReader much like the Nook Color, will be a 7″ Android 2.3 device with comparable specs, expandable memory, and a small selection of colored quilted backs to choose from.  The single core processor might end up being a slight negative, but this was never intended to be a powerhouse anyway.  Oddly enough, both the major strengths and the major shortcomings come in on the software end.
When Barnes & Noble started out with the Nook Color, they tried to keep it almost entirely about the reading.  It was only relatively recently that their app selection started to improve.  Amazon avoided that mistake by building up a huge App Store for the Kindle Fire before it even existed.  Kobo seems to feel like it isn't worth the trouble.  Rather than a heavily customized, or even locked version of Android, they have decided that Vox users can just grab what they want through the default Android Marketplace.  The OS seems to be pretty much just basic Android 2.3 with some Kobo Apps.
On the one hand, this is genius.  It gives them the ability to offer customers access to the largest selection of Android apps in existence without having to jump through hoops.  At the same time, however, it means that Kobo themselves will not be making any money off of anything but the books.  Whether or not this proves to be a smart business move remains to be seen, but it will definitely appeal to a certain segment of the customer base.
What really makes the Vox a major player among eReading companies jumping into tablet production is Kobo's international presence.  More than pretty much anybody else so far, Amazon included, Kobo has managed to make sure a wide selection of books is there in any market they can get their hooks into.  The Kobo eReader is widely available and has been for some time.  It would not surprise me even a little bit to discover that when Amazon manages to get the Kindle Fire out to markets outside the US, especially those new sites like Amazon.es, the Kobo Vox is already a common sight.
It isn't the best option in terms of hardware or software in the US right now, even for the $200 price, but for users who want just a cheap, effective 7″ Android device it might fit the bill.  In areas where the tablet market has yet to really take off, though, I expect to see the Vox make a huge impression.  Let's just hope Apple can hold off on the anti-competition lawsuits?