Ok, so as much as the Microsoft tablet announcement seemed potentially poised to do something even more unsettling to the small tablet market than Amazon's $199 Kindle Fire pricing could accomplish, the danger has mostly passed.  There is no way that either of the versions of Microsoft's new Surface tablet are going to be priced comparably to consumption-specific tablets any time soon.
They do bring a few things to the table that might make people think twice about bringing anything else into an academic situation, though.  That could be bad news for the Kindle given Amazon's emphasis on academic applications for their devices.  While many students couldn't afford something like an iPad in addition to their computer, a tablet like the Surface has the potential to let students do without a computer while still retaining much of the functionality of a Kindle Fire type of device.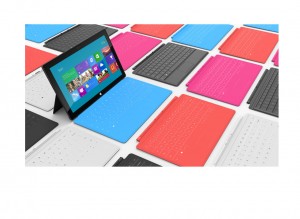 Looking specifically at the ARM-driven Windows RT model, which will be the first to become available, there are really interesting things going on.  No, it will not have anything approximating an E Ink display, but it will come with a 10.6" HD screen.  That's going to make a big difference for everything from movie viewing to game playing.
On top of that, the device integrates two digitizers.  One of those handles normal touch behavior while the other is specific to stylus contact.  In the event you are writing with a stylus, the Surface knows to ignore your fingers so that you can write naturally.  This will be huge for everything from in-text annotation to general note taking.  Comfortable one-handed scribbling on the go might finally be possible on a tablet.
For media, the Microsoft tablet will have outputs so that you can put your video on an HDTV or monitor as desired.  This was an important enough feature that they practically opened the reveal by talking about how there would be a Netflix app available at launch.  It is also something that the Kindle Fire has definitely been missing.
It will, as always, come down to price.  Right now we know nothing besides that the Surface for Windows RT will be priced close to comparable ARM tablet alternatives.  That probably means that it will run at least $400.  In that case, Amazon has little to worry about among their primary customers.
The biggest concern is going to be when Amazon reveals their new Kindle Fire later this year.  A 10.1" Kindle Fire would be nice, but if it doesn't significantly undercut both the iPad 2 and the Surface then there will be trouble.  I love the tight integration that Amazon has given their tablet, but when you have something that is literally intended to be a complete PC you don't need that.
The best we can hope for is that Amazon will stick to their undercutting strategy and market the newer, larger model of the Kindle Fire for something like $250 to maintain its position as a valid alternative for the consumer on a budget.