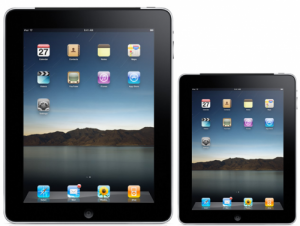 This is not the first time we've heard talk of a miniature iPad.  In fact, I've detailed here on the site exactly how little sense it makes for Apple to release such a device on more than one occasion.  Despite the ongoing lack of such a device from Apple, people keep declaring that it is right around the corner waiting to wipe out the Kindle Fire on a moment's notice.  For once, they might be half right.
The cost analysis I did in the past is still relatively accurate.  Apple has a reputation for putting comparatively large markups on their devices.  An iPad Mini that offered them minimal profits would definitely not be attractive in most cases, especially since it would inevitably eat into existing iPad sales to some extent.
Let's assume, however, that they have found a way to cut costs significantly.  The latest rumors are pointing to a seven inch tablet that lacks the Retina display Apple devices are becoming known for.  It would also have comparatively little on-board storage space and other such corner cutting measures to being margins up to acceptable levels.  The big question is why they would bother?
Let's face it, there has not been a good substitute to the iPad thus far.  No matter how much I love the Kindle Fire, it is a very limited device.  That's all it was ever intended to be.  The Samsung Galaxy Tab is the closest anybody has come and even there, it's hard to decide.  The situation has changed recently though.
Google's Nexus 7 tablet, and the anticipated Nexus 10 follow-up, makes a compelling argument in favor of Android as a viable tablet OS.  No other Android device has managed to create such a positive general use experience for such a lot price.  Apple might feel the need to respond to that somewhat.
More likely, however, would be the rise of the Windows 8 tablet.  The recently previewed Surface tablet developed in-house by Microsoft is powerful, easy to use, and fairly obviously aimed at besting the iPad feature for feature.  If they price it to match as well, Apple might finally be in a bit of trouble despite the large existing user base locked into their ecosystem.
The new Kindle Fire 2 might play into the equation as well, but that's a long shot.  Amazon did take the Android world by storm last year when they priced their device well below anything comparable.  It is likely that this low pricing will continue and that customers will get a great value out of the next Kindle Fire as well.  Even a ten inch tablet from Amazon is hardly going to trouble Apple at this point given the more serious competition that is showing up lately, though.
An iPad Mini could bite into Kindle Fire sales if it is ever released.  Price and name recognition go a long way.  Nothing has better name recognition than the iPad so a model priced at or below $300 would likely be a huge hit.  It wouldn't make much sense for Amazon's device to be the reason for that sort of release, though.  The Kindle Fire has never been direct competition as a general purpose tablet.  It's just a good way to get your Amazon content conveniently delivered.