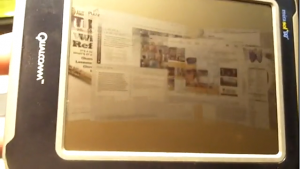 The eInk display technology (the same one that is used on Kindle screens) has a new rival. Far more than LG's micro foil technology that is used by Hearst, Qualcomm's Mirasol display technology is threatening to overtake eInk by the end of this year. Mirasol, as we reported earlier, is a new display technology that is being developed by a team of researchers under the banner of Qualcomm — their primary sponsor. The main advantage of this technology is that it has the capability of producing RGB pixels. That means full color displays. And it doesn't stop there either.
Mirasol can also display video and decent frame rates and according to those who saw the demo at CES 2010 — it is a very promising new technology. Because even though the screen is doing full color video, the developers claim that it has a 6x battery advantage over eInk under average eInk usage. The overlaying of a capacitive touchscreen allows the screen to become touch enabled but reduces the display's sharpness slightly. Still, it is supposed to be capable enough to take over the eInk displays. To give you an estimate – if your eInk display device lasts one full day on a single charge, the same device will last for 6 days on the same single charge and battery if it uses a Mirasol display. Of course, this is all theoretically speaking but the real world value is still likely to be quite high.
Mirasol can easily be read under direct sunlight like the eInk screens and it can also be evenly backlit for dark situations – something that the eInk screens are not equipped for. Mirasol is likely to hit by the end of 2010 and the first screens will be around 5.7 in size — enough for medium sized eBook readers and may be even tablet devices. Watch the video for a look at what it looks like.