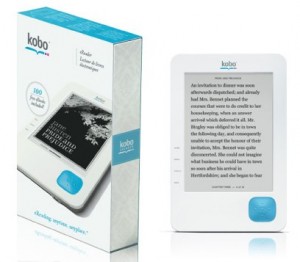 Slated for release this May and already available for pre-order, the Kobo eReader provides an inexpensive option for those looking to enjoy the eReader option without breaking the bank. It's not a Kindle-killer or even trying to be a contender in the recent eReader/Tablet competition being played up all over the internet at the moment, but rather a basic, simple take on reading a novel.
It's really quite a deal at just $149, honestly. The physical specifications are similar to what is already out on the market:
120mmx184x10mm w/ 6″ eInk Screen
221g / 7.8 ounces
1Gb Internal Storage with an SD Expansion Slot
Bluetooth Compatibility, including Blackberry sync
Compatible with ePub, PDF, and Adobe DRM files
You can get books in these standard formats from pretty much anywhere on the net, including all the popular sources for free literature like Project Gutenberg and Manybooks.net, but the main promoted source will clearly be the Kobo website. No shortage of reading material is always an upside! The downside however, from the gadget lover's point of view, is that they make no attempt to turn the device into a catch-all for every day tasks. This is quite plainly an ebook Reading Device. Nothing more. No 3g coverage, no downloadable apps, nothing but what you need.
We have only pre-release reviews and technical specs to go by at this point, but it looks like a promising addition to the eReader scene. If you or somebody you care to buy for likes to read a lot for pleasure, this will almost certainly be a welcome product. It won't check your email, find you a path to the movies, play your home movies, or run games. If that doesn't turn you away, it might be worth a close look.