I've just received my new graphite Kindle 3 Reader along with Kindle Lighted Leather Cover. Both items were overnighted by Fedex for a nominal $3.99 a piece thanks to Amazon Prime. So now I can finally get started on this hands-on review of Amazon's latest gadget.
Kindle 3 at a glance: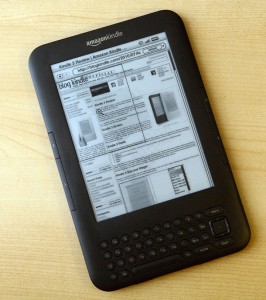 Here are the highlights of Amazon's new Kindle 3 eBook reader:
Small and light В – 7.5″ x 4.8″ x 0.335″, 8.7oz. In fact it's one of the smallest eReaders out there and the best one by features by size and weight ratio. Easily fits in a small purse or a coat pocket.
Sharp and fast 6″ 600×800 eInk screen. The contrast ratio is measurably better (see Kindle screen contrast measurement) that in other eReaders. eInk screen is free of glare and can be read in direct sunlight. There are several options including Leather Cover with LED light and Clip-OnВ Mighty Bright XtraFlex2.
3G + WiFi connectivity. Kindle 3 can download books and access Wikipedia via free 3G connectivity in more than 100 different countries. WiFi (when it's available) allows faster download speeds and connectivity where GSM data is not available. In some countries including US you can also access any website on the Internet via free 3G coverage.
No computer required. You can buy and download books from the device itself.
Long battery life. Up to 1 month with wireless off. Up to 3 weeks with WiFi connectivity and up to 10 days with 3G connectivity. You can read as much as you like without having to worry about recharging.
Text-To-Speech and fully accessible menus via Voice Guide let you listen to the book as it is read and make Kindle 3 a fully accessible device.
670,000+ modern books with majority priced under $9.99. These include 107 of 111 New York Times Bestsellers. 1,800,000+ older out-of-copyright books available for free. These include books by Mark Twain, Jane Austen, H. G. Wells and other famous and popular authors.
First several chapters in any book are available as free sample.
Books purchased in Amazon Kindle store can also be read on a variety of different devices and platforms including: PC, Mac, iPhone, iPad, Android and Blackberry.
All books purchased from Amazon Kindle store can be shared among all devices connected to the same Amazon account and read simultaneously.
Built-in dictionary for instantly looking up word definitions. Alternate dictionaries can also be installed. For example English-Russian dictionary to provide instant translations.
Native support for PDF, MOBI, PRC, TXT, JPEG, PNG, GIF and BMP files. DOC(X) is supported via online conversion.
Native support for Cyrillic (Russian), Traditional and simplified Chinese, Japanese and Korean characters.
Kindle 3 supports Audible (an Amazon subsidiary) audio books and allows bookmarking and chapter navigation. Although it lacks a fully functional audio-player, Kindle can play DRM-free MP3 files as a background music for a book.
Social features. You can annotate your books, newspapers and magazines and share your annotations and highlights via Twitter and Facebook.
Kindle 3 features upgraded WebKit-based browser that lets you view almost any website on eInk screen.
2 great word games (Shuffled Row and Every Word) with more applications on the way.
4 gigabytes of built in memory that can store up to 3,500 books.
Please read on for in depth review of these features and how they compare to Kindle 2 and other eReaders.
Kindle 3 Unboxed:
As usually both cover and Kindle came in Amazon's signature "frustration free packaging". You can easily get to your merchandise just with your bare hands without having to use knives or scissors. It is a minor but nonetheless pleasant element.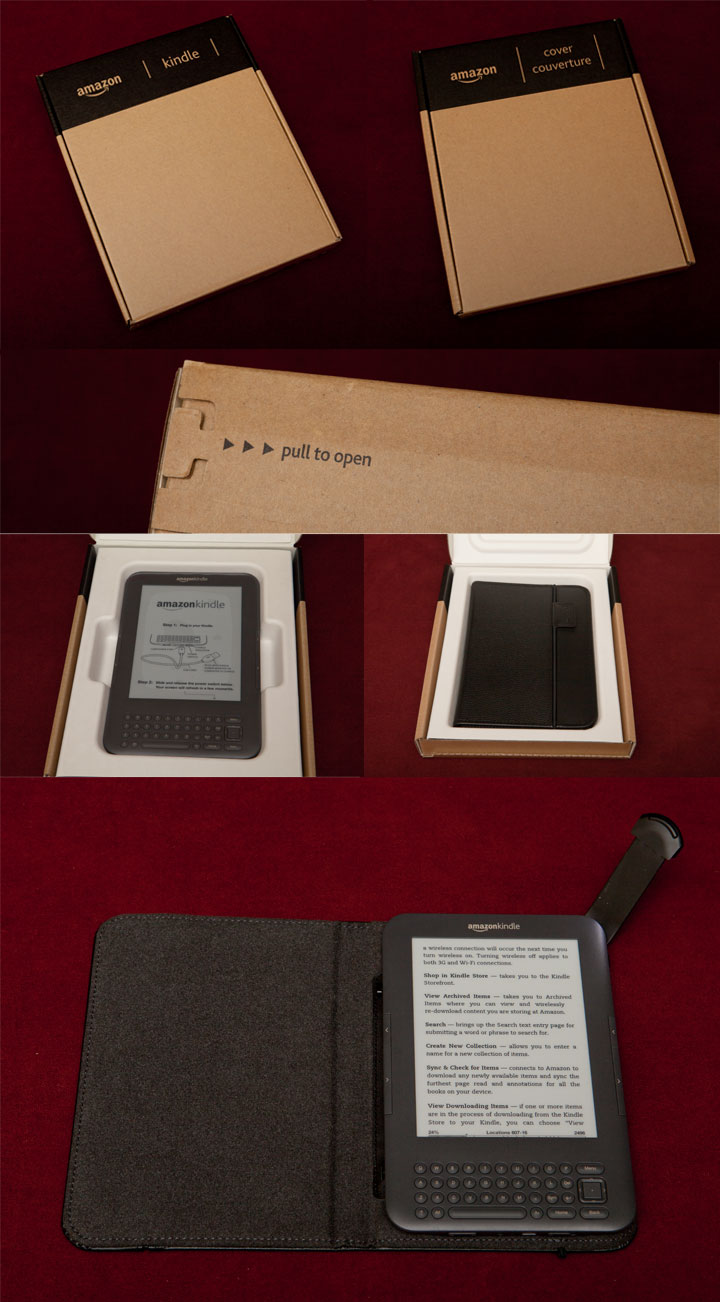 Kindle 3 Ergonomics: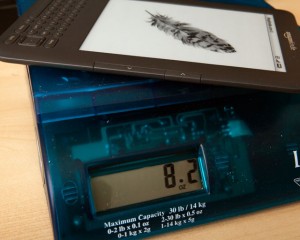 As you can see on our eReader size comparison page, Kindle 3 is one of the smallest eReaders out there. It is also one of the lightest. Although Amazon states 8.7 ounces of weight, actual measured weight is 8.2 ounces. Weighting 8.2 ounces В you can hardly feel it in your hand. Adding another 8 ounces of Leather cover with light to that really feels like a crime. Personally I'm going to shelf the cover at home and only put it on the Kindle while travelling. Amazon really did a great job on the weight and compactness. While Kindle 2 was just the right size to fit into my coat pocket, Kindle 3 fits in it easily with some room to spare.
Power and volume buttons, along with headphone audio jack all moved to the lower edge of the device, leaving all other edges nicely clean. Charging light is now integrated into the power button. Overall this setup is very similar to the original first generation Kindle.
As far a new control layout goes, Lab126 somewhat dropped the ball here in my opinion. Kindle 2 was the ultimate one-handed reader. Jeff Bezos even made jokes about it when interviewed by the media. In Kindle 3, Amazon designers did away with the 5-way controller, replacing it with a 5 button setup that is located much lower. Paging buttons stayed on the same place but became much smaller.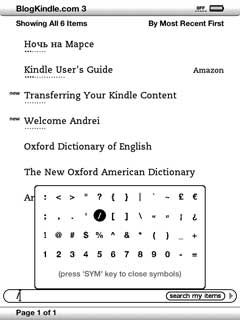 I'm a right-handed person. With Kindle 2 I could hold the device in my right hand and manipulate "Next page", "Menu", "Home" and even "Back" button along with the 5-way stick with my thumb. Unless I needed to type an annotation or search for text I never had to engage my left hand. With Kindle 3 paging buttons are still easy to use – you just need to hold the device the same way you did Kindle 2 and slightly rock your thumb to flip pages. Surprisingly I've found it easier to to hold Kindle 3 and flip pages with my left hand. 5 navigational buttons along with "Menu", "Home" and В "Back" are much harder to reach and manipulate with thumb. It's not impossible but personally I prefer to hold the device in the left hand and use right hand when I need to look up a word or manipulate a menu.
Given the fact that 97% of time it's the "Next page" button that you are pressing I would consider it a minor defect, but defect nonetheless.
Unfortunately I don't have any southpaw friends to provide feedback on Kindle ergonomics for left-handed people so I would be more than interested in comments from my readers in this regard and I'll surely include them in this and subsequent Kindle 3 reviews.
Alphanumeric keyboard lost the numeric row (same as Kindle DX) so now you have to combine the Alt button with upper "QWERTYUIOP" row to type numbers. Slash (/) button was also eliminated so now you need to press Sym-Right-Right-Right-Ok to produce this symbol. Character table invoked by the "Sym" button got a whole new row filled with digits giving you yet another way to type numbers. On Kindle 3 buttons seem to bulge from the device body slightly more than from Kindle 2, making them easier to press. It is a minor plus but a plus nonetheless.
According to this review, larger charging light is easier for partially color-blind people to read than smaller lights in earlier generation Kindles and other eReaders.
Kindle 3 Screen:
Kindle 3 features eInk Pearl screen. eInk screens don't have any light source and only require small amount of power to change the picture. Static pictures can stay on the screen forever without draining the battery at all. Since eInk screens are reflective, they can be read from easily under direct sunlight just like regular paper book.
Amazon claims that Kindle 3 has "50% better contrast ratio that any other eReader" and it seems that this claim does have some merit. Although I don't know which methodology Amazon used in their tests and I'm a amateur photographer rather than a professional colormetrist, I did some measurements of my own and it does look like Kindle 3 beats other eReader in terms of contrast.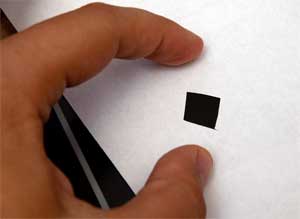 I took a sheet of office paper and cut a rectangular hole in it to do measurements. Then I created a picture that was half fully black and half fully white. I displayed the picture on several eReaders that I had and photographed both white and black sections of the image covered by paper in such a way that only hole and paper would be in the frame. To make sure that all pictures are created equal I disabled all automatics and post-processing in my DSLR and used flash in manual mode to get consistent lighting. For better accuracy I used 16 bit/color channel resolution. I then blurred pictures to eliminate noise and measured intensities of reference paper, black and white sections of eReader screen in Photoshop. Since light intensity of the same piece of paper differed by less than 1% on all pictures I assume that my measurements were accurate enough. I then calculated white and black intensities relative to reference paper intensity and relative white to black intensity of each reader that represents contrast.
| eReader/Measure | Black/Reference | White/Reference | Contrast (White/Black) |
| --- | --- | --- | --- |
| Kindle 3 | 6.44% | 69.11% | 10.72 : 1 |
| Kindle 2 | 12.22% | 74.00% | 6.05 : 1 |
| Nook | 14.22% | 73.33% | 5.15 : 1 |
| Sony PRS-600 | 29.11% | 64.66% | 2.22 : 1 |
As you can see Kindle 3 is a clear leader in the contrast front with white to black ratio of almost 11. While all eReaders produce comparable white intensities, it is black intensity that really differentiates them and defines contrast ratio. Kindle 3 clearly produces darkest blacks of all devices, followed by Kindle 2 and Nook. It's white is not as bright as the one one produced by older generation of eInk screen found in Kindle 2 and Nook but overall it clearly wins.
I was quite a bit surprised by Nook performance since I actually expected it to outperform Kindle 2 in contrast department. When I picked it up in the store couple of months ago the first thing that struck me was sharpness and contrast of text. It still looks sharp to me so I guess that it has to with fonts and the way they are rendered on the screen.
Sony PRS-600 touch edition is a clear outsider here – no surprise. Adding touchscreen layer on top of eInk really ruins the image clarity. Now I have actual numbers to back it up.
The new Kindle 3 screen has the same resolution of 600×800 with the same 6″ diagonal, giving it the same 167ppi spatial resolution. This resolution is adequate for comfortable reading at any reasonable font size.
Amazon claims 20% faster page turns. While I wasn't able to test and accurately measure this metric subjectively it does seem to be true when I compare Kindle 3 and Kindle 2 side-by-side.
Kindle 3 Battery: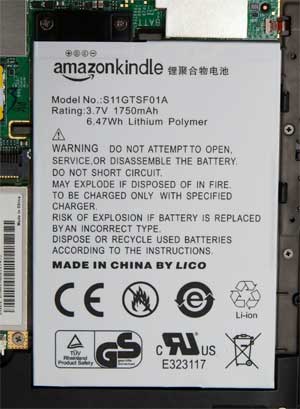 Although officially Kindle 3 battery is not user-replaceable, it's very easy to pop the cover off (you just need a thin screwdriver or a knife). Kindle 3 comes with LICO S11GTSF01A 3.7V 1750 mAh Lithium Polymer battery. This is an upgrade compared to 1530 mAh battery by the same manufacturer found in Kindle 2.
According to Amazon it allows up to 1 month battery life with wireless off and up to 3 weeks with wireless on for В WiFi-only Kindle 3 and up to 10 days for WiFi + 3G Kindle.
Buy doing some simple math we can calculate average current drains of about 2.4 mA with wireless completely off, 3.5 mA when running on WiFi and 7.3 mA when running on 3G + WiFi.
Many people are wondering about what would cover with built-in LED light do to the battery life. Luckily I had a digital multimeter and a piece of wire handy so I was able to measure the drain current of the cover as well. It turned out to be 76.6 milliamperes. This by an order a magnitude larger than what Kindle 3 consumes even with wireless on. So with LED light on battery life is going to be between 20.85 and 22.15 hours of constant reading. This is about twice as long as 10 hour battery life of Apple iPad.
Even though the battery is not officially replaceable, it should not be a big problem. Since Kindle can go on weeks without a recharge, this means fewer recharge cycles per year and therefore more years of total battery life.
Another thing worth pointing out is the fact that Kindle 3 would use WiFi network whenever it is available and disable 3G. Depending on how power management is implemented in hardware in software it might be possible to get same 3 weeks battery life on 3G+WiFi Kindle if the device is within WiFi range most of the time.
Kindle 3 Font Options: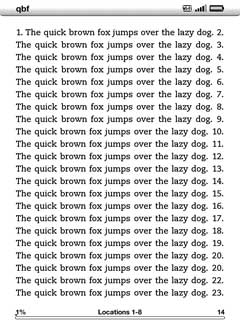 With the latest firmware Kindle 3 supports 8 font sizes, 3 typefaces, 3 line spacing settings and 3 line widths. Overall this gives you 168 different ways to display any text. I ran some tests to give get an idea how these settings differ by displaying "The quick brown fox jumps over the lazy dog" sentence over and over on the same page.
On default settings (Font size #3, regular typeface, large line spacing, default words per line) Kindle screenВ accommodates 221 words. Following table illustrates the effect of different font settings on the number of words per page:
| Setting | Number of words |
| --- | --- |
| Font size #1 | 160% |
| Font size #2 | 117% |
| Font size #3 | 100% |
| Font size #4 | 65% |
| Font size #5 | 47% |
| Font size #6 | 35% |
| Font size #7 | 14% |
| Font size #8 | 8% |
| Regular typeface | 100% |
| Condensed typeface | 119% |
| Sans Serif typeface | 124% |
| Small line spacing | 122% |
| Medium line spacing | 110% |
| Large line spacing | 100% |
| Fewest words per line | 68% |
| Fewer words per line | 83% |
| Default words per line | 100% |
| Most words per page | 240% |
| Least words per page | 2.7% |
While in my opinion "words per line" setting that was originally introduced on Kindle DX doesn't make much sense on a small 6″ screen, other settings give users lost of ways to customize their reading experience.
When reading PDF files none of these options are available since fonts are embedded into the files themselves. However there is "contrast setting" with 5 possible values: "lightest", "lighter", "default", "darker", "darkest". What it really does is control the weight (boldness) of the font. Is very useful for making small fonts readable without having to zoom into PDF or change screen orientation.
Kindle 3 PDF Support: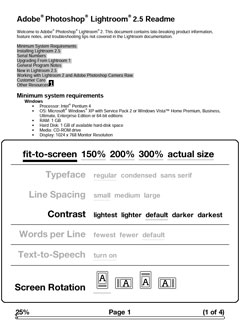 Initially PDF native support was introduced in Kindle DX. Back then Kindle software lacked support for zoom and pan so large 9.7″ screen was the only way to deal with documents that are intended for letter size paper (due to the way PDF format works it may be impossible to reflow text in PDF files, although Sony PRS-600 seems to be quite good about it). Since then PDF support was backported to Kindle 2 and after that received several upgrades.
In Kindle 3 you can:
Zoom and scroll/pan PDF files. One good alternative to zooming is changing screen orientation to landscape and using paging buttons to scroll the page up and down.
Do dictionary lookups just like with regular books.
Highlight and annotate PDF files. Although annotations can be shared via Twitter and Facebook users will only see your annotation text but not the portion of the document you've annotated. Perhaps Amazon will fix this issue in the future.
Search within PDF file.
Change font weight.
You still can't use any external or internal document hyperlinks or use built-in table of contents. This can be somewhat alleviated by searching for chapter names or using "Goto page number" menu function. Hopefully hyperlinks are also on Amazon's TODO list.
Overall I can say that compared to "fair" PDF support in Kindle 2, Kindle 3 has "good" PDF support that can become "excellent" some day.
Kindle 3 Wireless Options:
Historically Kindle has shipped with free 3G wireless connectivity. Initially it was available though Sprint CDMA network only in the US. In 2009 when International Kindle 2 was released, Amazon switched to AT&T GSM network with roaming agreements in more than 100 countries.
Kindle 3 comes in two flavors: WiFi Only and 3G + WiFi. WiFi only option is $50 cheaper, slightly lighter and gets one more week of battery life. WiFi + 3G Kindle users the same AT&T 3G GSM network with international roaming as international Kindle but will use protected and unprotected WiFi networks whenever they are available. AT&T bills Amazon around $0.15 per megabyte of downloaded data so it's a reasonable step for Amazon to forgo this cost while providing users with higher download speeds.
I've tested Kindle 3 with AT&T 3G connection and in WiFi mode with my home wireless network and with Sprint EVO 4G in mobile hotspot mode. Every time it worked perfectly. Both 802.11B and 802.11G networks are supported.
People who have mobile hotspot capable smartphones (ex: Android-based phones) may opt for the cheaper $139 Kindle WiFi and still enjoy global wireless connectivity via their phone. Personally I opted for $50 upfront 3G fee for the added convenience always-on connectivity and not having to worry about phone battery charge (mobile hotspot drains phone battery really fast).
Amazon claims 1 week longer battery life for WiFi only Kindle with wireless on compared to 3G + WiFi version. However Kindle 3 would always prefer WiFi connection to 3G so if it is smart enough to completely power off 3G modem when it is not used 1 month uptime for Kindle 3G may also be possible if the device spends most of the time within WiFi range.
It's also worth noting that there are no separate controls for WiFi and 3G. There is a single menu option "Turn Wireless On/Off" that controls both radios.
Kindle 3 Social Features:
Kindle 3 has the same set of social features as recently released Kindle DX Graphite. You can share highlights and annotations from the books that you read with your friends via Twitter and Facebook. This features also works in newspapers and magazines but not in blogs (it's a pity since despite doing most of my work on computer I prefer to read blogs like TechCrunch on Kindle if possible)
On top of that Kindle has a kind of social network of its own. You can opt-in to share your book highlights with Amazon. This way passages highlighted by multiple people become highlighted in the book as you read it and made available online. For example you can check out the most highlighted passages from "Eat, Pray, Love" here.
Kindle 3 Web Browser: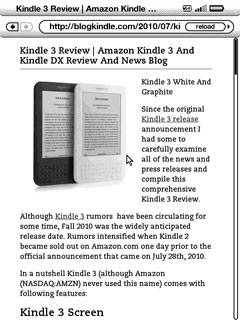 Kindle 3 comes with new WebKit-based web browser that does a much better job at rendering websites than previous browser in Kindle 2. New browser is much faster, more standard compliant and generally better at displaying complex web pages.
When I previously compared Kindle 2 with Nook, Nook was a hands down winner in web-browser department. Websites loaded much faster and nicer than with Kindle 2. In fact some websites Kindle 2 failed to load at all.
Kindle 3 addressed this problem nicely. Previously I would only use Kindle 2 browser as a last resort (if my smartphone wasn't available) for anything other than Wikipedia. With Kindle 3 I would have to admit that web-browsing is quite usable and fast. In fact with some websites larger screen gives Kindle an advantage over smartphones. I did several side-by-side tests with Nook and found that loading speed was almost exactly the same. It didn't have any problems even with active javascript content like eReader size comparator.
Another killer feature is "Article Mode". It is specifically tailored for blogs. When it is turned on Kindle strips away headers, sidebars etc and displays only article content from the page (including images). Since this mode takes away all fancy formating, paging back in forth is extremely fast.
Overall with proper browser, free unlimited 3G Internet and WiFi option Kindle is a clear leader among eReaders when it comes to web-browsing.
Other Kindle 3 Features:
Kindle 3 added native support for several ranges of Unicode characters, including Cyrillic (Russian), Traditional and simplified Chinese, Japanese and Korean. You no longer need to install hacks or convert your books to PDF to read them on Kindle. All you need to do is save text file in UTF8 encoding and copy it into Kindle documents folder. Hopefully Amazon will enable these characters in self-published books soon so international dictionaries including English-Russian dictionary can be properly published.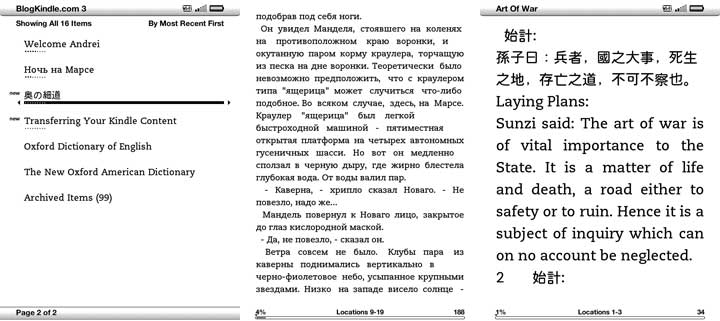 Kindle 3 has 4GB of built-in flash memory with 3.3 gigabytes available for your books, documents, photos and MP3 files. This is an upgrade compared to 2GB in Kindle 2.
Audible audiobooks are supported just as they were in Kindle 2.
Kindle 3 retains all of Kindle 2 Easter eggs, including picture viewer, calculator, minesweeper and gomoku.
There are two word game apps available for Kindle: Shuffled Row and Every Word. More applications are on the way.
Kindle 3 doesn't have an accelerometer like Kindle DX so page orientation needs to be changed manually.
Kindle 3 Lights and Covers
Kindle 3 is a very lightweight device. Even so accidental drops might break it and the screen is not resistant to scratches. So protective covers are recommended. Although one is not included with the device itself, Amazon offers two models in seven colors each:
Kindle Lighted Leather Cover has a built in LED light. Cover hinges are conductive so the light draws power from Kindle battery. Estimated battery life with the light on is around 21 hours. The cover generally gets good reviews on Amazon. Unfortunately it is quite heavy. At 8oz weight it doubles the weight of the device. Nice thing about this cover is that the light shuts off when Kindle goes to sleep so it will not drain the battery if you leave it on the table and forget to turn off the light.
If you just need the light and not the cover Mighty Bright XtraFlex2 might be the way to go for you. It weights under 3 ounces, runs off 3 AAA batteries and clips-on to almost anything (including Kindle). Although I don't know exact battery life of this light I can say that I've had it for more than a year and it still runs on original Duracell batteries that came with it. Read how to open PSD file.
If you want cover but not the light, there is basic leather cover. It is roughly 1.5 ounces lighter, costs $25 less than the one with the light and does a great job protecting your Kindle from scratches and falls.
Be aware that Kindle 3 has a different cover hinge configuration from Kindle 2 so covers designed for Kindle will not work.
Kindle 3 Disassembled:
Seeing how easy it is to remove Kindle 3 cover since there are no parts attached to it either outside or inside at all I couldn't resist the temptation to take it off and snap the following picture (click to see full resolution version).