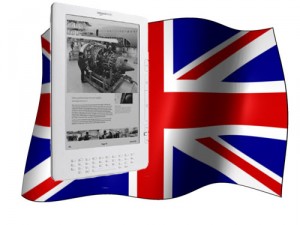 While the Kindle has long since become an international phenomenon with customers found all over the world, many people are surprised to find that there have been significant shortcomings to being a Kindle user outside of the US.  Sure, the books are digital property and take a lot less time to ship than if you decided to import a sofa, but delivery time isn't everything.  Up until now, users in the UK have been forced to pay extra for all of their eBook purchases, simply for being outside the United States.
The launch of the Kindle Store UK is currently scheduled for August 27th, coinciding with the release of the new Kindle 3, though I'm told that Amazon(NASDAQ:AMZN) insists that it be called simply Kindle, and in preparation has begun selling the Kindle directly from the Amazon.uk site for the first time.  This should mean no more import fees or expensive overseas delivery charges, if all goes well, as well as an end to any obnoxious side effects and hassles from the necessity of converting currency into dollars.
Apps are already being updated to incorporate this new development, with Android already rolling out and iOS being expected in the near future, so there need be no thoughts that this is beneficial to just eReader owners.  As the platform localizes, UK readers can surely expect to see a larger selection(especially of native UK authors), better prices, and more attention to the region's specific demands.  If all goes well, it doesn't seem unreasonable in the slightest to expect to see further nationalization of the Kindle platform across the international community.  If anything, the fact that character support in the new Kindle software has been expanded would seem to hint that this is definitely on the books.  This is exactly the sort of move that Amazon needed to further ensure that their eBook application becomes the default for the industry in the long term.