Amazon has a big media even scheduled for September 6th.  Speculation points to the debut of this year's Kindle refresh.  The new lineup could include a larger Kindle Fire, and updated version of the current model, and backlit e-ink Kindles.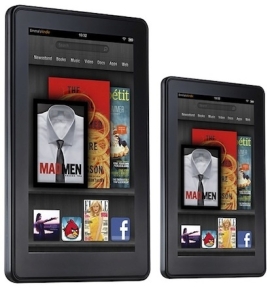 The Kindle Fire has some serious competition now from Google's Nexus 7,  the rumored iPad Mini, and the Nook Color and Nook Tablet.  One of the keys to the Kindle Fire's success last year was price, and the competitors have recognized that.  So, what will be this year's big idea that will cause the Fire to leapfrog over its competitors?
A larger Kindle Fire can undercut the iPad in price, and Amazon has the means to make a good quality tablet.  We've seen a lot of attempts to dethrone the iPad, but no one has really come close, yet.
Amazon has a robust collection of books, apps and videos, plus the Prime perks, Kindle Owner's Lending Library, Prime Instant Video, and a free app a day from the appstore.  Good covers could be key: one with a keyboard built in, or one that can help boost battery life.
Moving on to the e-ink Kindles.  The biggest upgrade this year will be the backlight.  This is pretty much a given because of the release of the backlit Nook earlier this year.  I am really excited about this development because I will be able to read comfortably in all lighting conditions.  No need to worry about carrying around external light attachments.  Preserving the long lasting battery life will pose a challenge, however.
The Kindle Touch is currently available to purchase from Amazon directly.  So, that is a clue that something new is coming.  The Kindle Touch should see an update in touch interface quality.  By that I mean smoother navigation and page turns without previous page remnants.
So, the lineup should look like this:
Kindle Fire: 7 inch and 10 inch models, which older version at reduced price
E-ink Kindles: Lighted version of the Kindle Touch and basic model.
Older models: Selling at a reduced price until inventory runs out.
There will most likely be 3G and wi-fi only options, as well as models with or without special offers. This lineup should appeal to the broadest audience possible, remain competitive across the board price wise, and stay on top of the competition in terms of features and accessories.
Stay tuned.  It will be a wild couple of weeks.