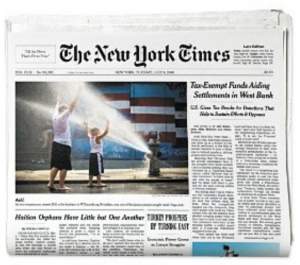 Finally, the Kindle Edition of the New York Times has released full web access for Kindle and Nook subscribers.  The New York Times is one of the best newspapers in the world for many subject areas such as business and politcs.  I'm sure you are also familiar with their crossword puzzles.
Now you have more reading options and portability.  This has been in the works for several months so readers are certainly glad to finally see this option become available.
I admit that the $20 monthly fee is kind of steep, especially when it was just for access on the Kindle.  Also, as you are probably aware, the Kindle is not that great on graphics.  So, if you need to look up graphics or tables, you can get this via the NYT website.
Good to see newspapers and magazines reaching out to the digital audience in addition to the print audience. It appears that they are finding ways to bring in revenue from both sources.  Newspapers have been really hurting financially in the past few years.  The Kindle version is much easier on the environment too!  With e-readers and tablets cropping up all over the place, the digital market is certainly on the up and up.
I have a friend who leads a busy life and doesn't have time to read newspapers.  So she catches up on them during vacation.  I can definitely see how e-readers and tablets can help in this area by just having one device to carry around.
Despite the e-reader and tablet revolution, I hope that appreciation for print and the work to create it will always remain.  There is something about the feel of the paper and smell of the fresh ink.  I think that both print and digital content can find a balance and coexist into the future.