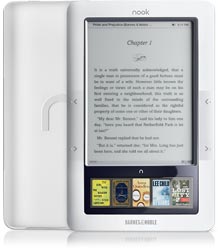 In an interesting, but not exactly surprising announcement through Engadget, we have learned that the Nook 3G is on its way out.  At this point in time, what 3G models are left are pretty much all there will ever be, so now's the time to pick one up if you're interested in the more expensive, if somewhat more accommodating, version of this successful Kindle competitor.
There are a few theories being thrown around to try and figure out the logic behind this move.  One of the more popular ones, though in my opinion the least believable of the bunch, is that this is a prelude to the release of a 3G model for the Nook Color.  Were this to be the case (according to the supporting rationale behind this), the classic Nook model would then be moved to the category of "budget Nook", given a price cut, and there would subsequently be no room for a higher priced model.  Why do I think this unlikely?  Mostly, there is no chance that Barnes & Noble(NYSE:BKS) is going to do something as silly as putting unrestricted free 3G access onto one such an easily rooted, but highly versatile, device.  Their costs would explode.  Even the existing 3G Nooks have less 3G functionality than the equivalent Kindle models, being completely restricted to accessing the B&N book store.
Another possibility being tossed around, slightly more likely but still not quite making sense to me personally, is that this is a sign that B&N is getting ready to release a new version of the Nook with the improved E Ink Pearl screen, like that of the Kindle.  If this were the case, the assumption is that in order to sell the more expensive model in greater quantity, production of the 3G device would begin earlier than the WiFi model so that early adopters would be left without the option.  This one, however, relies on the assumption that the $50 price increase between the two models represents a significant per-unit profit increase for Barnes & Noble, and I just don't buy that.  Between the extra hardware and the additional cost incurred in making the 3G coverage contract-free, there simply can't be that much margin left for profit in such a small price hike.  Much as I hope we see a Nook with a better screen at some point soon, this one is far fetched.  Read how to open KEY file.
No, this is probably something simpler.  Not the heralding of a new launch or update to the Nook line, but a streamlining of production and a removal of some of the complications of upkeep.  There have already been some reports of people having their Nook's coverage temporarily denied by AT&T for whatever reason, which has to be one of any number of headaches B&N is enduring. Since they're pretty much pinning their hopes on a more tablet-like future for eReaders, there's not as much need for 3G coverage, especially when it is as highly restricted as the early Nook's was. WiFi isn't all that hard to come by anymore.  This shouldn't hurt people all that much.  If all else fails, there's always the Kindle with its unrestricted 3G coverage.  If you're completely set on a Nook 3G, however, there's still time!  Right now they may be turning down bulk orders, but the product hasn't been pulled from shelves.  Grab one while you can.