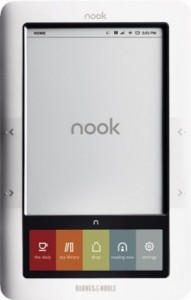 Moving back to the other side of the usual competition, after Amazon's(NASDAQ:AMZN) recent announcement of this fall's upcoming slimmer and more streamlined Kindle, Barnes & Noble(NYSE:BKS) has begun a limited time offering(from June 2nd through July 3rd) of a $50 Gift Card with every nook device purchased through either themselves or their partners and Best Buy.
There is, of course, plenty of opportunity to read into this as more than a marketing push, paving the way for the WiFi-only nook we've been hearing about or a jump to a lower price point in general, but without anything to set schedules by, it's a bit hard to assess.  Regardless of the reasoning behind the offer, anybody who was on the fence about picking up this eReader will now have that much more incentive to run out and give it a try.
For those who order their device online, you will need to create a BN.com account with attached credit card and you may expect the gift card to be included in the packaging with your new nook.  This might not be the best time to upgrade, or even to simply join the eReading populace, given the new technology right around the corner, but if the urge is there then this is one more reason to go for it.