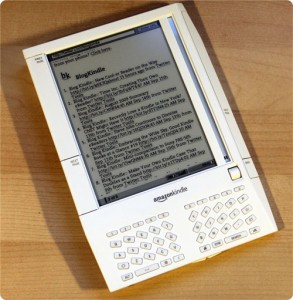 Recently Amazon dropped the price on refurbished first generation Kindles. You can now get one for $149 .00 while supplies last. It looks like Amazon is trying to stay competitive in the cheaper eReader niche. Don't let the word "refurbished" set you off. In my opinion it is a great deal. Here's why:
You still get 1 year warranty from Amazon just like with new Kindle. In one year from now Amazon will likely be out of 1st generation Kindles so warranty exchange will very likely become an upgrade.
You get same scree resolution as Kindle 2, fewer shades of gray but better contrast according to many users.
By spending additional $9.90 on 4GB SD card you will get more on-device storage than in Kindle DX.
Not that it would matter, given that K1 just like all other Kindles has free lifetime Internet access.
Personally I like select wheel and cursor bar of K1 better than 5-way controller of K2.
All in all just like Kindle DX isn't better or upgraded compared to Kindle 2, Kindle 1 is more different from Kindle 2 rather than inferior or outdated. The only real drawback of K1 I can honestly admit is that page turning buttons are too soft and therefore are prone to be accidentally pressed when you pick up the device. However if you strongly feel that Kindle 2 is the way to go for you, then by adding $70.00 you can get refurbished Kindle 2 for $219.00.
eBook reader market has come a long way since originally Amazon Kindle retailed for $399.00 when it was launched two years ago. Now you can get the same device for nearly 1/3 of that price.