Yep, you are reading this right. It's actually quite easy now to get Kindle books on Nook color and have both eBook stores available to you on a single device. This is possible because Nook Color is more of an entry level Android tablet than a dedicated eReader. As it comes out of the box it just happens to start the Nook application by default and not let users run anything else.
However that can easily be fixed by rooting the device and enabling the Android Market. With Andoid market you can install all kinds of applications, including Kindle, Kobo reader. You would also be able to play Angry Birds and watch Youtube videos. Installing the Kindle application for Android will let you read Amazon Kindle books on your Nook Color device.
The downside however is that as with all hacks, you risk bricking the device and voiding the warranty. You may also lock yourself out of future updates from Barnes and Noble. So it's a trade off but in my opinion a profitable one.
It took me less than 5 minutes to execute all rooting instructions from NookDevs.com to root the device, enable Android Market, download Kindle for Android and have WhisperSync open the book I was reading on the same place I left it off on my Kindle device.
Here's what you will need in terms of hardware:
microSD card that is larger than 128MB (if you are in a rush and have Amazon Prime, amazon will overnight it to you for additional $3.99)
SD card reader if your computer doesn't have one.
In terms of software you'll need:
On Windows 2000/XP/Vista/7 32 or 64 bit – Win32DiskImager.exe
On Mac or Linux you can get by with tools that ship with the operating system.
Here's what you need to do:
Before rooting make sure that you've registered the device with B&N as it might not work after rooting.
Download nooter that corresponds to you Nook version. You can check your Nook version by pressing Nook button, selecting "Settings" >> "Device Info" >> "About your NOOKcolor" >> Software version:

for 1.0.0 – GabrialDestruir's auto nooter 2.12.15 file 15 Dec 2010
for 1.0.1 – GabrialDestruir's auto nooter 2.12.25 file 25 Dec 2010

Unpack the file
On Windows use Win32DiskImager to write the image to microSD card (please note that all data on the card will be lost). For Linux or Mac, check out NookDevs.com for detailed microSD imaging instructions.
Completely power off NOOKcolor by holding the power button until the screen blurs and "Power off NOOKColor" dialog appears. Select "Power Off" and wait for the device to shut down completely.

Turn device face down and open the microSD card container in the lower right corner. Push the card in with metal contacts facing down.
Connect the device to your computer via USB cable. The device will power up and book from the SD card but the screen will not turn on. This is normal.
After about a minute your computer show detect the new device. This means that the rooting is complete. Your Windows computer will complain about missing drivers. This is normal.
Disconnect the USB cable and remove the card from the reader.
Power cycle it by holding the power button for 20 seconds and then releasing it. The press the power button briefly to power the reader on.
As the reader boots you will see a red splash screen.
Once the reader boots, you will be prompted for you Gmail account (as usually with Android) and some initial settings. This will only happen once.
As you open the extras folder you will see that it now contains Android market icon and some extras (Youtube, Gmail, etc)

You can now start the market app and download other apps that you like. You will need to reboot the device for apps to appear on the extras page. The apps themselves can be used right away just as with usual Android apps.
After that the sky is the limit.
First thing that I did was to download Kindle application and verify that it works – it did. See – for yourself.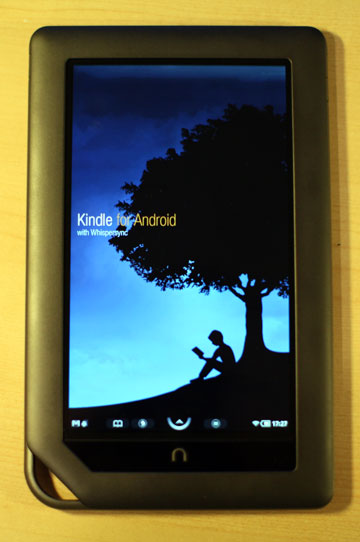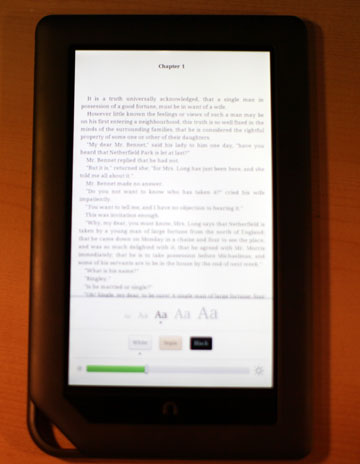 While this works, it's not 100%. Initially I had some problems with apps not downloading via the market app. Reboot fixed that. Kobo app for android logs in and displays the list of books but then all books get stuck in "Waiting for download" state. Kindle app didn't have such problems.
I also tried Youtube, remote desktop, Gmail and Angry Birds and that worked well.
All-in-all, I'm quite happy with this experiment as it shows once again that Kindle books can cross device boundaries and run even on competing devices. Does it add value to Kindle or NOOKcolor? I think both. If you have Barnes&Noble LCD eReader you can now get books from either store. Kindle opponents meanwhile have one less reason to complain about device-restricting DRM system.
I wanted to do Kindle vs. NOOKcolor review first, but this post turned out more about how these two devices cooperate rather than compete. The comparison review will be posted sometime early next year. I promise.
Unrooting and updating
Some people claim that using NOOKcolor can be "unrooted" by "Settings" >> "Device Info" >> "Erase & Deregister Device" but I haven't tested it yet. I'm quite happy with my rooted NOOKcolor. Another method is to hold power, nook and Volume+ buttons pressed until you are prompted for device reset.
Learn how to open ZIP file.I've tried both methods and both reset the nook but apps were still present on the "extras" screen.
The official 1.0.1 update got installed without problems and after rebooting all rooting extras were completely gone.
I then went ahead to re-rooted the device and installed the Kindle reader apps back.