I recently got the opportunity to try out a ColcaSac sleeve for my Kindle Fire and thought that it might be useful to share my thoughts.  It's proven to be an interesting product.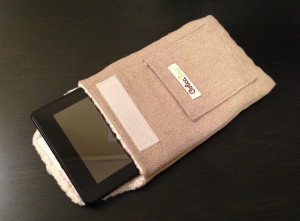 First impressions
The sleeve I ended up with was the $29.95 Uintah style for the Kindle Fire.  A fairly minimal design made of undyed hemp canvas and lined with a surprisingly soft recycled polyester fleece.  This fits together with the company's environmental concerns without sacrificing quality.  There is absolutely no question, holding the sleeve in my hands, that this is a durable product.
Getting the device into the sleeve for the first time was somewhat daunting.  The packaging actually instructs you to brace the device against your body while pulling it on and the instructions mention that the fit should be tight fitting, but that doesn't get the idea across well enough.
It is very clear that my Kindle will not just fall out of this sleeve even if I leave the flap at the top closed.
After some use

Ok, the horrible snugness that made me fear I might never be able to retrieve my tablet again has faded somewhat.  Now that I've been using it for a couple days, things have stretched out enough that while there is still no danger of the Kindle falling out I will at least never have a problem sliding it in and out.  It's clearly a case that has to be broken in.
In terms of other performance, the Uintah sleeve has held up well.  A spilled drink left no stain on the canvas, and it was thick enough to prevent quickly-cleaned liquid from making its way through.  The fleece lining is thick enough and soft enough that there is no reason to suspect anything has a chance of scratching through it. Learn how to open HEIC file.
The stitching holds up quite well and nothing seems to be glued together.  I tested a fair amount and honestly can't tell whether the canvas itself wouldn't give out before the seams.  It's a well put together product.
The one concern I have is with fall damage.  As with most sleeves, the shock of an impact will translate voice directly through to the device.  This one is better than most in that regard, but the edge with the closure flap is particularly vulnerable.  You would have to be unlucky enough to drop it just right, but these things can happen.
Final Thoughts
I'm a fan of folio cases for eReaders and tablets.  To me they offer the least inconvenience during frequent use while still providing protection.  That said, if I were to switch to a sleeve for regular use I would definitely make it one of these.
The ColcaSac Uintah design is as utilitarian as I could hope for without being unattractive or bulky.  While it's true that there could be some damage during falls, that's going to depend on the situation and the device you're holding in one.  The Kindle Fire has already proven itself fairly resistant to fall damage from under four feet or so.  The Kindle eReaders weigh less and would get even more benefit from the use of a sleeve with this kind of padding.  It seems like a pointless concern unless you're really hard on your electronics.
Remember that it will take some time to break in.  I'm not exaggerating the tightness of a freshly shipped Uintah sleeve.  It took a good week and probably 20 insertions/removals before things finally stretched just enough to be comfortable.  Definitely worth it to avoid stretching to the point of looseness later, but it's worth keeping in mind.
In addition to sleeves for the Kindle Fire, Kindle Touch, and Kindle Paperwhite, ColcaSac makes sleeves for the iPad, iPad Mini, iPhone, and Macbook.  I'm also told that a Kindle Fire HD design is on the way.
Check them out at http://www.colcasac.com/