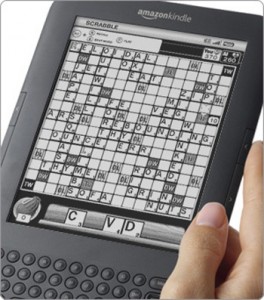 Recently we have seen the release of the first third party game to actually be sold for the Kindle.  Scrabble, an Electronic Arts release, is available to US customers on their Kindle 2 or Kindle 3 for $4.99 through the Kindle store.  This is not the first game to become available for the popular eReader, of course, but it is the first major production from a big name publisher.
Those who have been following these sorts of things, or who simply like word games and Kindles, will likely remember the release of two free games(Every Word and Shuffled Row) a couple months ago that were quite well executed and demonstrated the potential for development that was present in spite of the lack of a rapidly refreshing screen.  This version of Scrabble operates similarly.  It can be played alone in a solitaire mode for fun and practice, against the Kindle when you want a bit more of a direct challenge, and in a head-to-head competitive mode that involves passing the Kindle around. Sadly, there is no capacity for multiplayer interaction between devices.  While it is understandable that the hardware limitations of the device might make such things difficult, it is certainly a disappointing and difficult to accept shortcoming that will be a major factor in many players' purchase decisions. Overall, however, it looks at least somewhat promising if you don't mind that.
These days there are quite a few different activities to be found in the Kindle store, from Crosswords to Sudoku, but this is pretty much the first polished experience to be found since Amazon's initial offerings.  Reviews so far are favorable in the extreme.  People are finding it to be a fun game, fairly intuitive, and easy to get addicted to.  As always, however, there are going to be problems and it is best to bring them out into the open.
The most common complaints so far are: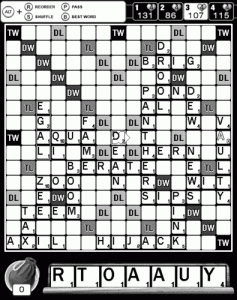 Some customers have taken issue with the way shading is used in this application.  Words occasionally become hard to discern due to overly bold board markings(double word/letter scores, etc.) confusing the play area.  There are also passing comments made that there is no major distinction made on the board between a space occupied by no tiles and and a filled one.  Empty spaces and blank tiles are effectively identical, apparently.
While many reviews state that controls were obvious and easy to understand, there are some gamers who wish that the Kindle's 5-way controller was more intuitive to use.  Most of those who made these complaints also went out of their way to mention that it was soon something they grew accustomed to as well.  Possibly simply a matter of users trying something besides reading on their Kindle for the first time, but it would be impossible to dismiss this out of hand without more information.
There isn't much elaboration that can be made on this.  More people claimed that the interface was perfect than complained about it, but that doesn't mean it's fine for everybody.  May well be related to the control issue I mentioned above.
One disappointed Canadian user stated that as of this moment the game is not available internationally.  Definitely something to be aware of for many users.
Owners of multiple eReaders sharing one account, and therefore libraries, throughout their household may be disappointed at first here as well.  One reviewer points out for us that it seems to not be possible to share the application among multiple devices as one might expect.  Further reading and comments, however, lead me to believe that this reviewer simply didn't know what he was doing, as follow-up comments indicate licensing for up to six Kindles.  It might just be a bit more of a pain to manage than usual.
As of the writing of this article, the favorable reviews of this application outweigh the unfavorable by more than two to one(17=4-star+, 8=3-star-), even leaving in those reviews by people misusing the space on the product page to ask questions, complain about unavailability, and generally contribute little to the understanding of the product.
It simply looks like a good deal right now, if you're like me and enjoy word games.  It's a gross generalization, but I'd say that likely encompasses the majority of Kindle owners.  Definitely a smart move on the parts of Amazon and EA.  Personally, I'm really looking forward to getting this thing on my DX when I get home.  Any version is likely great, but this just cries out for a larger, crisper screen to me.  If anything happens to alter my favorable outlook on all this, I'll let you guys know.  Can't wait to see what apps hit the store in the next few months now that there's a precedent to work with.