Since right around the time Amazon launched the first Kindle, Sony has had trouble maintaining a place at the front of the eReading world.  In a way this is really a shame, since it was the Sony Reader that first brought E INK reading devices to the public in a meaningful way.  I still have an old Sony Reader PRS-500 from 2006 that works perfectly, for example.  They set the standard when it came to initial performance and pricing for early eReaders.
Still, over the past 4-5 years Sony as a company has failed to keep up with their competition in terms of hardware pricing and content availability.  As these are pretty much the most important parts of successfully marketing an eReader, it's no surprise that the first thing people do when they want to read a book is rarely "open the Reader app".  Efforts are clearly being made to turn this around, however, both with the newer Reader hardware and the recently released Reader application update.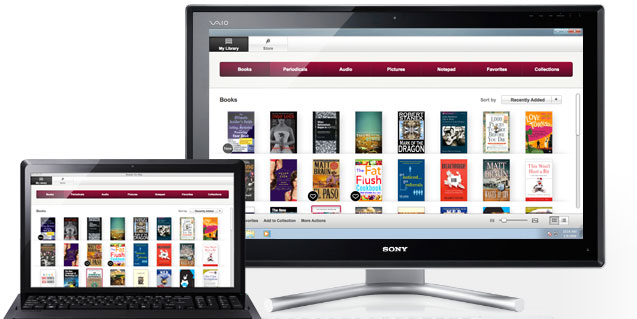 This software update is now available for PC and Mac, bringing some features that the product line has been in dire need of for some time.  With the new program you can organize your library, tag eBooks for easy searching or sorting, jump to real page equivalents while reading, enjoy tabbed browsing, and sync your reading information between devices using Cloud Sync.  The appearance is quite nice as well, and makes the PC and Mac apps consistent with the Sony Tablet equivalent.
Now, this is not in any way a revolutionary move.  Anybody familiar with eReading will recognize these features as basically what has been around for some time now on both Kindle and Nook platforms.  The fact that they are not right at the forefront of innovation at this time does not make this inconsequential, though.  Right now there are, for the most part, four major players in eBooks.  Amazon's Kindle, Barnes & Noble's Nook, Kobo, and Sony.  Anything that keeps the options open for consumers and heats up the competition a bit is going to be good for everybody involved. Learn how to open GPX file.
This is especially true moving forward as eReading companies attempt to secure places as Tablet PC providers.  Barnes & Noble has had some noticeable success with the Nook Color as a reading device, and Amazon seems to be exceeding all expectations with the response to their upcoming Kindle Fire media tablet.  The Kobo Vox is the first of these to offer an open Android experience, but it remains to be seen if this will be a smart move.
Sony, coming from a less specialized background, already has a tablet presence and experience with the wider market.  They are still behind in pricing, of course, but that's true of the majority of the tablet market with less than a month having passed since Amazon upset the balance.  Will this make a big difference going forward?  It's hard to say.  The Sony Tablet S hasn't exactly made the kind of impression that one would hope for if it were to compete, but that doesn't mean we can necessarily rule them out yet.  We can only hope that Sony is quicker to respond to Amazon's latest moves than it has been previously.