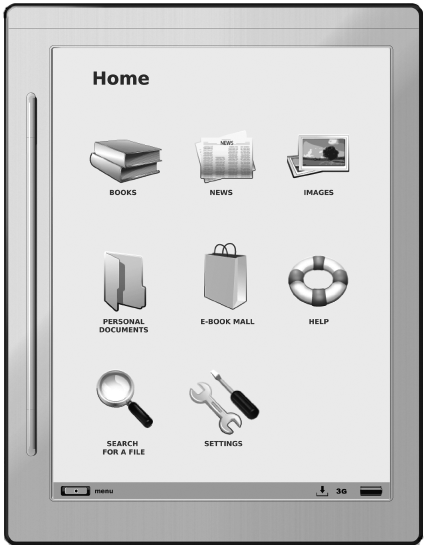 iRex was one of the earlier entrants in the eReader market, mainly known for the not super successful iLiad.  While most of iRex's earlier devices were overly expensive high-end readers, their newest product appears to be a bit more consumer-oriented.
The screen size is 8.1 inches, making the new reader a sort of one size fits all between the Kindle 2 and the Kindle DX.  The biggest new feature is 3G, but no details have been revealed yet about what carrier iRex will be associated with.  For that matter, there isn't very many details about the device in general.  The image above is only a mockup, it could all be smoke and mirrors as far as we know.  There also is supposed to be some tie in with an eBook distributor, but details are forthcoming.
Older models from iRex never really met the expectation's that were raised for them.  I'm going to take this speculation with a grain of salt and just wait and see.
| | Kindle 2 | Kindle DX | New iRex Reader |
| --- | --- | --- | --- |
| Display Size | 6 inches | 9.7 inches | 8.1 inches |
| Touch Screen | No | No | Yes |
| Wireless | 3G/Whispernet | 3G/Whispernet | 3G/Carrier Unknown |
| Book Store | Amazon | Amazon | ??? |
| Price | $299.00 | $489.00 | ??? |