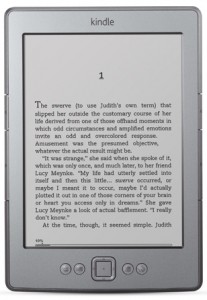 I don't think anybody can really doubt at this point that Amazon wants to take their eReading success in the US and replicate it globally.  Amazon in general is an always expanding entity, of course, but specifically the Kindle line has been growing rapidly for some time now and is finally showing up in non-English dominated countries.  Even if nothing else had pointed in that direction, simply the removal of the physical keyboard from the Kindle, a long-standing and almost iconic part of the popular eReader, would have given some hints as to aspirations outside of US markets.  If we take that as a given, though, does Amazon have a chance to make the same sort of impression elsewhere that it has in the United States?
Probably the number one thing that Amazon has going for it when it comes to getting the Kindle Store out there is the Kindle Direct Publishing platform.  This has allowed authors to bring out work that might never have seen the light of day otherwise.  In some cases there was a good reason for that, of course, but the number of success stories from KDP authors is growing all the time and it is becoming increasingly common for new works to be self-published digitally without ever even being offered to major publishers.  There is every reason to believe that this will be a popular service no matter where Amazon makes it available and that as a result they can hope to keep their selection original and diverse in any market.
Self publishers will not be driving an entire eBook industry any time soon, though.  Customers want access to the big names and best selling titles.  Here is where Amazon will be running into some trouble.  Despite, or perhaps because of, the roadblocks that the company has hit from Agency Model price fixing, nobody can compete with the Kindle and publishing houses aren't prospering in the new market the way they would like to.  While those two facts don't necessarily have a direct connection, publishers are clearly unhappy with how things are going now that the Kindle and eBooks in general have taken off.  That will have an effect on how publishers who have not as of yet dealt with Amazon will approach forming a new relationship.
On top of this, there is the incredibly complex task of managing rights issues across multitudes of jurisdictions.  Amazon can't just form a deal to sell a book, they have to make deals to sell every book in every individual country it needs to be sold in.  As any Kindle owners in Canada can attest to, that results in problems with unequal selections.
Will Amazon push through and make the attempt in spite of the complications?  Of course.  They're already doing it.  I would guess that after this first major push to hit what they perceive to be the best potential markets, though, we see a couple years of consolidation.  When it comes to the Kindle, Amazon has proven they have a desire to deliver quality over quantity and that can't always be rushed.