With Kindle 2 if you wanted to read books that contain non-English characters like Cyrillic, Chinese, Japanese, Hebrew etc you had several options:
Use Kindle unicode font hack to replace default Kindle fonts with ones that support wider range of Unicode characters.
Convert it to set of JPEGs and read it in the picture viewer.
With Kindle DX option 1 is ruled out for the time being since Unicode font hack doesn't install on it. (Update: Unicode Fonts Hack now works on Kindle DX as well). However because Kindle DX supports PDF natively there is another way. PDF supports "font embedding". This means that fonts that are used in PDF file are stored within the file itself or at least a subset of font that describes all the characters that are actually used. So Kindle can display Russian text in PDF files even though there are no Russian fonts on Kindle DX itself.
Luckily creating PDF files is easy as printing documents. There are dozens of PDF "converters", "creators" or "writers" out there that all work in a similar way. They are installed as virtual printers that instead of printing documents on paper save them on your PC in PDF format. So any file that can be opened in program that supports printing (and 99% of them do) can be converted to PDF. Learn how to open PDF file.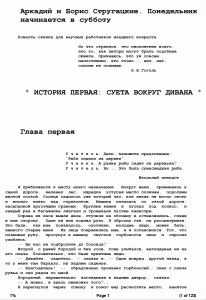 I tested several such programs and all of them produced files that I could read on my Kindle DX. Visually files produced by all of them were identical and of similar size (on disk). The only difference is how particular program behaves itself on PC. In the end I went with PDFCreator because it's easy to install and use and doesn't come with junkware.
There are many more free and paid PDF converters out there. I've reviewed just a few free ones. If you think you know of a better one – drop a comment here and I'll take a look.
You can see a sample (click to zoom) of Russian text that was downloaded from lib.ru, copy-pasted into Microsoft Word, font bolded and converted ot PDF using PDFCreator.