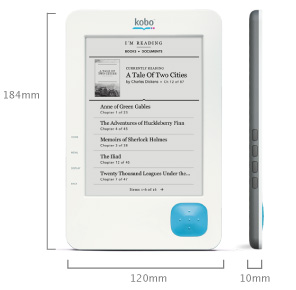 As the May 1st release date for the Kobo eReader from Canada-based Indigo Books and Music Inc. draws near, people have begun to take notice.  The $149 price tag alone would seem to many to be the biggest draw, but the full picture is a little bit larger.
In keeping with the company's goal of promoting content over gadgetry, anybody using the Kobo Store can expect to have access to their purchases available on any number of platforms from eReader to computer to cellular phone.  This should hold true not only in North American markets but around the world, as Indigo has brought in partnerships to expand their presence into the US, Australia, New Zealand, Asia, and Europe.
The device itself is simply a basic reading platform without any of the frills and features that a device like the Kindle boasts, but it provides an affordable option to people at a time when the eReader market is taking off and pulls in a large selection of international literature that is otherwise rather hard to come by.  There are reports of an impressive showing of Korean-language content on the horizon, for example.
If you find yourself interested, check out the National Post's book blog, The Afterword, where's there's a contest going on all week to give readers the chance to win a Kobo eReader of their own to enjoy.  All it takes, it seems, is a few minutes, an email, and some luck!