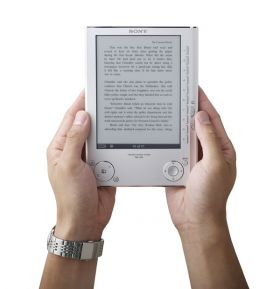 The Sony Reader is a worthy opponent to the Kindle, however Sony has made some fundamental mistakes which will ultimately mean it will lose the battle for the e-book.
Sony's chief executive, Sir Howard Stringer, noticed how Apple integrated is software and hardware to create a better customer experience, he added that Sony wants to make it as easy as possible to download or stream music, films and electronic data to all Sony electronic devices, from the PlayStation 3 to the Bravia Televisions. Sir Howard Stringer wants 90% of Sony devices to by wirelessly networked within 2 years.
However, Sir Howard Stringer vision seems to have fallen on deaf ears in the Sony Reader division. The Sony PRS-500 Reader had a commanding lead in the e-reader industry, but last November the Kindle was unveiled by Amazon. Amazon had done exactly what Sir Howard Stringer wanted to do with the Sony Reader, the Kindle was wirelessly networked to the Amazon book store, the hardware and software acting as one. Most importantly however, it made it easy for the consumer to buy books, something the Sony Reader never really achieved with its reader.
Back in 2006 when the Sony Reader was launched, Sir Howard wanted to let world know that this is sort of device that the new Sony wanted to make: both innovative and well-connected, but it was Amazon that showed them how it was really done.
Book selling is at the core of Amazon's business, this is another advantage that Amazon has over Sony, it can leverage publishers to release books on its platform before any other, that's something Sony would find very difficult to do. There are currently over 145,000 titles in the Kindle bookstore, the Sony bookstore has 45,000, that's another area where Sony falls short.
The Kindle also offers so much more than the Sony Reader, daily newspapers, blogs, RSS subscriptions all without the need for a PC, with hacks you can even turn the Kindle into an email reader, an instant messenger and a web browser. You can buy a book any time and anywhere as long as you have a wireless connection, you cant do that on the Sony Reader.
Sony has consistently declined to release sales figures, which just might tell you something. Whilst Amazon hasn't exactly been forthcoming with sales figures wither, we have learned that in its first 10 months the Kindle has sold over 240,000 devices, which isn't a figure to be ashamed of, in-fact it blew most analyst estimates out of the water. To put it in context, the iPod first-year sales came to 360,000 devices, the Kindle is on course to match that figure.
Sony is now playing catchup, Sony's Steve Haber has said that Sony is "open" to the idea of making the Reader a wireless device, but if you ask me, it may already be too late for them. Unless Sony's next e-book reader is radically different to the current model and offers the same functionallity of the Kindle, im afriad its goodbye Sony Reader.