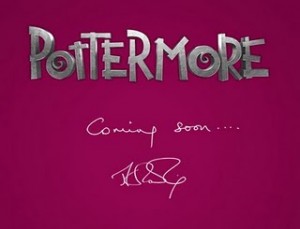 J.K Rowling, long term eBook holdout, has decided to finally let the Harry Potter series out for the Kindle and into the eReading marketplace in general.  It's good news for fans of Harry Potter, fans of eReaders, and basically everybody but the publishers.  You see, Rowling has retained her electronic publishing rights and stands to make pretty much pure profit from every sale these electronic releases bring along.  The only question now is what this will mean, if anything, for how eBooks work in general from this point on when it comes to major publications.
First, I should point out that Rowling has voluntarily agreed to pass along a portion of her eBook profits to her publishers, Bloomsbury Publishing and Scholastic.  No word on precisely how much, to the best of my knowledge, but it shows that this isn't a cutting of ties to the industry.  We also know that Amazon and Barnes & Noble have stated that they are working with the Pottermore site to make sure that the new Harry Potter publications work with the Kindle, Nook, etc. with0ut much trouble.  This last fact could mean anything from simply optimizing the layout to offering some degree of post-purchase integration with the respective platforms.  It is too soon to tell on that.
I'm going to work on the assumption here that Rowling is putting aside any real integration with the Kindle or Nook platforms to avoid giving either Amazon or Barnes & Noble a cut.  They're likely simply trying to take advantage of the inevitable popularity of the eBooks to promote themselves by association. That's about the best they can hope to get from it.  For smaller book retailers, however, this is likely going to come as bad news.  Even more so for children's booksellers.
Even if Pottermore, the site that Rowling will be selling her material through, takes off, will it change things for either publishers or retailers?  I am of the opinion that it will not.  This is a very unique case.  Most publishers make a point of acquiring the eBook rights at the same time as everything else when they sign a new author.  Especially now that the eBook industry has become such a big thing compared to what it was when Rowling got started.  As such, no way for big names to make a move like this after they become big names.  Newer authors, especially self-publishing authors, will not have the resources to push sales to users of the Kindle and Nook while still maintaining their distance from the respective platforms.  Even if they did, it isn't like Amazon will jump at the chance to work closely with just any author who wants to circumvent their cut of the profits in a creative way.
Honestly, I would say that the only impact this will have is directly on the Harry Potter series.  There isn't transfer to the rest of the eBook world.  It is too soon to say if the Pottermore site will do well, and most of that will likely have to do with considerations beyond the eBook availability.  Even if it does, the only people to benefit will be the Kindle-owning fans and Rowling herself.  It isn't a sign that changes are coming.