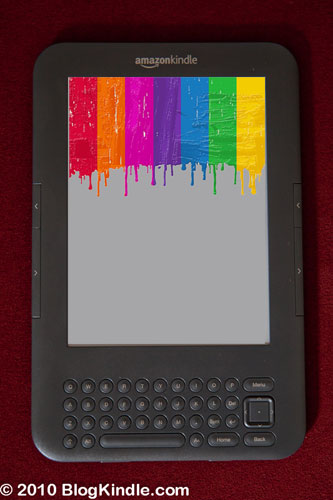 The demand for a color Kindle has been relatively constant since the eReader was first introduced.  It was the major point of contention in early Kindle vs iPad comparisons and likely resulted in the sale of no small number of iPads in the first generation.  The Kindle Fire was a step in the right direction, but like the Nook Color it relies on an LCD display that is far from ideal for reading.  The back-lighting necessary for such a display is both hard on the eyes and a huge drain on batteries compared to E Ink alternatives.
Now, E Ink eReaders have a new standard to live up to since the launch of the Nook Simple Touch w/ GlowLight.  We can be relatively certain that Amazon is aware of this fact and interested in stepping up the game a bit with their next Kindle release.  This means that there will obviously be a similar lighting feature that doesn't intrude too much on the battery life users have come to expect from a Kindle eReader, but there will have to be more if they want to really stand out.  The new Nook has been around for long enough that light alone will probably fail to impress even if Amazon could launch immediately.
There may be a case to be made for expecting a front-lit color E Ink Kindle in the second half of this year that will make besting the Nook's GlowLight model possible.  Consider the shortcomings of E Ink's Triton displays.  They do have color, yes, but it is dull and lifeless except in ideal lighting situations.  Even in some specially selected showrooms there are times when Triton's color fails to impress.  Adding in a front-lighting solution along the lines of what Barnes & Noble has achieved with GlowLight may eliminate that problem.  If the lighting is built right into the device and still doesn't significantly reduce the battery power then there is no reason to avoid color E Ink anymore.
This is not new speculation, but it does carry slightly more weight than it used to.  We have already had information leaked about Amazon's possession of lighting technology for the new Kindle.  It was reported on shortly before the new Nook was made public.  Now DigiTimes, that highly unreliable but occasionally informative Taiwanese publication, has made the claim that parts suppliers are getting orders for color eReader components on a schedule that would set release in the second half of 2012.  I would never rely wholly on DigiTimes for information and so would advise against considering that confirmation, but they have been right even more often than they've been wrong. Read how to configure 192.168.1.254.
If we do get a color Kindle eReader before the holidays, expect a fresh boom in eReading in general.  Not only would it be impressive new technology that addresses a major customer demand, it would benefit from the first major change in eBook pricing since the introduction of the Agency Model.  We can't be sure how soon Amazon will jump on the pricing issue given that there are still unsettled defendants in the DOJ case, but the end result will definitely benefit Kindle owners immensely.  This could be a very big year.