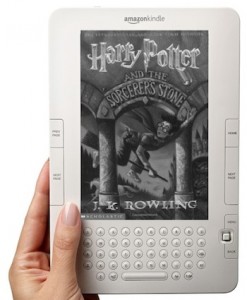 In recent blogs and reports, a rumor has sprung up that the Harry Potter series being sold through the author's soon to be opened 'Pottermore" site will not include direct Kindle compatibility.  As should probably be fairly obvious, this is quite definitely not true.  The popularity of the rumor was such that Amazon even came forward and announced that the popular children's books will find their way over.
The origin of the whole ruckus seems to have been an article about the Pottermore site teaming up with Google Books.  Probably just a matter of hopeful thinking on Google fans, I would imagine.  The post mentions efforts being made to integrate Pottermore and Google Books, including an agreement wherein Google Checkout is the preferred third party payment platform for the new site.  The phrasing is very positive for Google, which is to be expected on the official Google Books blog.  The only definite claims we have, however, are that there will be sufficient integration to allow buyers to push their new Harry Potter books out into your Google Books "library in the cloud" and that Google Checkout will be available.  No exclusivity is implied, whether it be in terms of eBook platform, payment platform, or anything else.
One of the more interesting spinoffs from that somewhat overblown topic is the idea that the Harry Potter series will in some way be used to force Amazon into adding EPUB compatibility for the Kindle line.  While there has been no official word on this, I'm going to go out on a limb and say that there's not a chance it will happen.  For one, Rowling is maintaining complete control over her products and has not, to the best of my knowledge, ever expressed a strong inclination to advocate for her favorite file format.  Why would she?  Also, it would make little sense to alienate Amazon in any way give that they currently have the largest customer base in the eReading world.  Given that the Kindle can already read DRM-free MobiPocket eBooks, there is no reason that I can think of for the Pottermore site to try to force the EPUB issue.  What business would want to lose money by failing to spend a minute or less converting a file from one format to another?
When October rolls around, I would anticipate that it will be as easy for a Kindle user to get their new Harry Potter stuff as it will be for anybody else, even if Amazon is being fairly quiet about their integration efforts right now.  The new eBooks should be available in every format still used today, and quite possibly some truly obsolete ones.  Since there will be no DRM included in the files, even if your favorite is not represented there are always programs like Calibre.  Let's face it, though, unless you are still using the Sony BBeB out of personal preference or something, there is little chance of being overlooked.  The Pottermore site will be taking care of the fans.